What's happening
News
Events
CarePlus Pharmacy Supports Families Affected by Stroke in Ireland
CarePlus Pharmacy Supports Families Affected by Stroke in Ireland
Country-wide network spreading awareness of counselling from Irish Heart Foundation
The CarePlus Pharmacy network has launched a drive to raise awareness of an Irish Heart Foundation programme, which helps the families of people who have suffered strokes around the country.
Looking after a loved one who has had a stroke can be challenging at the best of times, and during the COVID-19 pandemic, many people are finding it more difficult to cope. To remind family carers they're not alone, the Foundation's highlighting their scheme which offers 6 one-hour professional counselling sessions, completely free of charge.
Managing Director of NaviRetail, the parent company of CarePlus Pharmacy; Eoin McCormack says helping the community is at the heart of the CarePlus mission: "Every day we learn more about how widely felt the impacts of COVID-19 have been. It's heartbreaking to think people caring for their loved ones have been left feeling even more isolated by the steps that had to be taken to tackle the pandemic. Our CarePlus Pharmacy teams already support people living with a stroke around the country and we're delighted to extend that help to their families by spreading awareness of this fantastic initiative".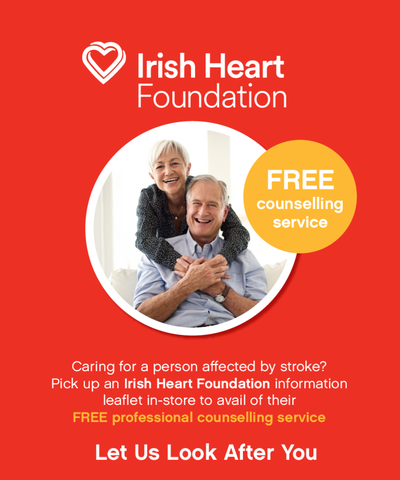 Pauline Fitzgerald from the Irish Heart Foundation says this partnership provides a great opportunity to spread awareness of their scheme: "CarePlus Pharmacies' prime position within the community gives their teams access to family members that are currently looking after a loved one who has had a stroke. When they talk to their customers about this free counselling programme, they can help change the lives of the family member and the stroke survivor, and we're delighted to have their support".
The features of this programme provide:
Free professional counselling, across six one-hour sessions


A confidential, neutral space to talk through thoughts and frustrations


Practical techniques for coping with the emotionally difficult situations faced by families of stroke survivors


The Irish Heart Foundation is distributing leaflets on the free counselling support programme to all CarePlus Pharmacies, where teams will share the message with customers. The Irish Heart Foundation will arrange the counselling sessions directly. Anyone who would like to avail of the service or find out more information is being invited to email carers@irishheart.ie