What's happening
News
Events
Barnardos Fundraising Targets Exceeded
Barnardos Fundraising Targets Exceeded
This December saw our Barnardos Gift a Little Happiness campaign land in all of our CarePlus Pharmacies. We asked each pharmacy to raise €500 for Barnardos through their own fundraising events and donations.
Mullins CarePlus Pharmacy raised a total of €1,200 for Barnardos with a number of events taking place during the month of December. This was more than twice the desired amount that was asked of each pharmacy to raise via fundraising events and donations and we are so thankful and grateful to them for their huge efforts.
On December 14th – our official Barnardos Day – Mullins CarePlus Pharmacy in Salthill, Co. Galway organised a number of Christmas-themed events to raise money for the charity and draw a crowd. Santa Claus paid a visit to the pharmacy from 4-6 pm and each child received a selection box when they went to see him. Face-painting and carol singing also took place at the pharmacy. Staff members dressed in festive jumpers for the occasion and had Barnardos collection buckets to collect donations from attendees.
The Pharmacy also ran a colouring competition with some of the local primary schools in store and received over 400 entries. Five winners were picked and each winner received a €20 Smyth's voucher. A raffle was also held to raise money, charging €2 for a ticket. The main prize was a hamper made up of in-store products to the value of €300. Some of the local businesses in The Village Salthill also donated some spot prizes on the day, making a total of 9 prizes ranging in value from €10 - €50.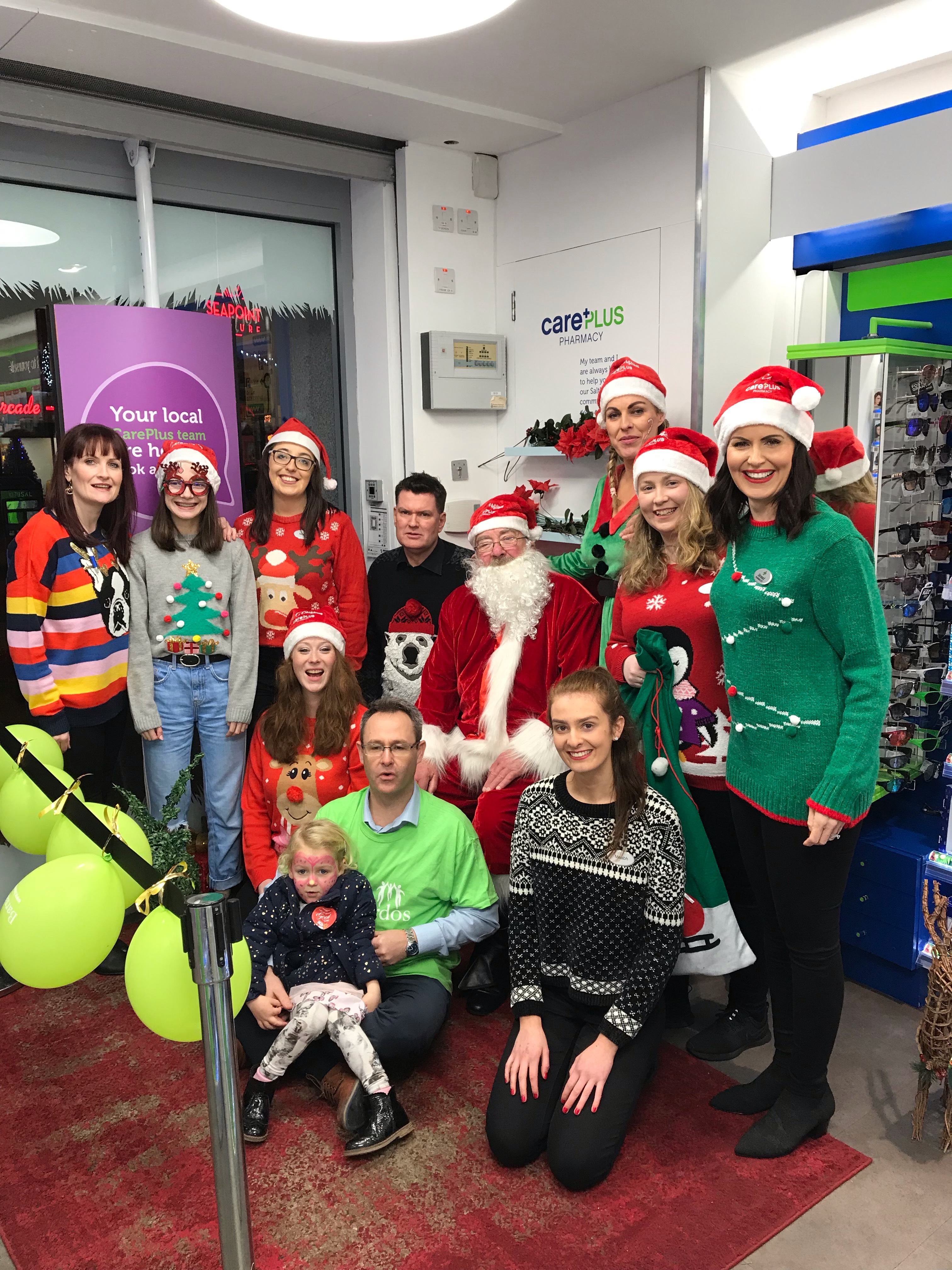 Spooner's CarePlus Pharmacy in Templeogue also did a fantastic job through their fundraising events such as a raffle and carol service, raising raised over €520 thanks to the generosity of their customers and the Pharmacy doubled all cash donations making a grand total of €1040.
Anna's beautiful carol singing had everyone in the festive spirit and created an extra special atmosphere for the Barnardos Christmas Appeal.
Overall, we want to say a special congratulations to Mullins & Spooner's CarePlus Pharmacies on their phenomenal efforts and results raising funds for such a worthy cause, as well as all our other Pharmacies who participated and made donations. Between gift and cash donations, a considerable difference will be made in the lives of the vulnerable children and teenagers Barnardos work tirelessly to ensure a better quality of life and a better future.