Be SkinCare Aware: Frequent flying & UV Protection
We all know protecting your skin against harmful UV rays is important. Getting exposed to too much of it will eventually lead to skin cancer and premature aging, so it is crucial that we make a conscious effort to slather on the SPF. But did you know that you're at risk while you're on a plane?
While many of us assume that wearing sunscreen is reserved for sweltering beach days spent in far-away destinations, it turns out that your skin could be at risk before you even arrive on holiday.
Protecting your skin while flying
When travelling by airplane, you are exposed to many more harmful rays and thus skin cancer risks than anyone on the ground.
UVB radiation – most associated with sunburn – is blocked by the windows of the plane, however UVA radiation is not. UVA rays can penetrate the glass on airplane windows and also penetrates the skin much more deeply than UVB rays, causing aging and skin cancer.
Despite the window next to you on an airplane being small, when you think about it logically, you are closer to the sun and the ozone layer by tens of thousands of feet (Dr Sweta Rai, British Association of Dermatologists). The sun's rays are much more harmful at this level and thus it is vital to wear sun cream when flying.
To protect your skin in this situation, it is important to choose a broad-spectrum sun cream (at least SPF 30) which shields against both UVA and UVB rays. The UVA protection in a sun cream will help to protect the skin against photo aging (skin aging caused by UV rays i.e. wrinkles caused by sun exposure) and the risk of skin cancer, according to the British Association of Dermatologists.
Apply a marble-sized amount to your face and other exposed areas (neck, chest, hands, forearms & ears) at least an hour before you are due to fly. Re-apply every 2 hours, especially on long-haul flights
Pilots & Melanoma
Dr. Doris Day, a New York City dermatologist says that "flying at 30,000 feet (9,000m) [for 60 minutes] can be as dangerous as 20 minutes in a tanning bed." A study published in JAMA Dermatology in 2015 backs up Dr. Day's claim as they found similar results.
The 2015 study looked at the risk of melanoma in pilots and cabin crew, revealing that pilots flying for approximately 56 minutes at 30,000 feet were exposed to the same amount of carcinogenic UVA radiation as one would receive from a 20 minute session on a tanning bed.
"These levels could be significantly higher when flying over thick cloud layers and snow fields, which could reflect up to 85 per cent of UV radiation. Plane windshields do not completely block UVA radiation and therefore are not enough to protect pilots. UVA transmission inside planes can play a role in pilots' increased risk of melanoma," the report said.
The research reported in JAMA showed that the plane's windshield eliminated around 99% of the UVB rays (responsible for sunburn), but only about half of the UVA rays, which is dangerous enough to contribute to cancer risk, according to Dr Richard Dawood, Telegraph Travel's health expert.
In the cockpit, there is nowhere to hide from the sun's rays as pilots require full visibility in all directions.
Studies have shown that, for pilots, wearing sunscreen is very important, and even short flights can damage the skin. We strongly recommend the use of sunscreens and periodical skin checks for pilots and cabin crew.

Even though pilots and cabin crew are at a higher risk than the average traveller due to prolonged periods of time in the air, all passengers – especially those in window seats – should take the strength of the sun at higher altitudes seriously.

If you travel with makeup on, check the label to make sure it's at least broad spectrum SPF 30 as well, and reapply every two hours the same way you would a regular sunscreen.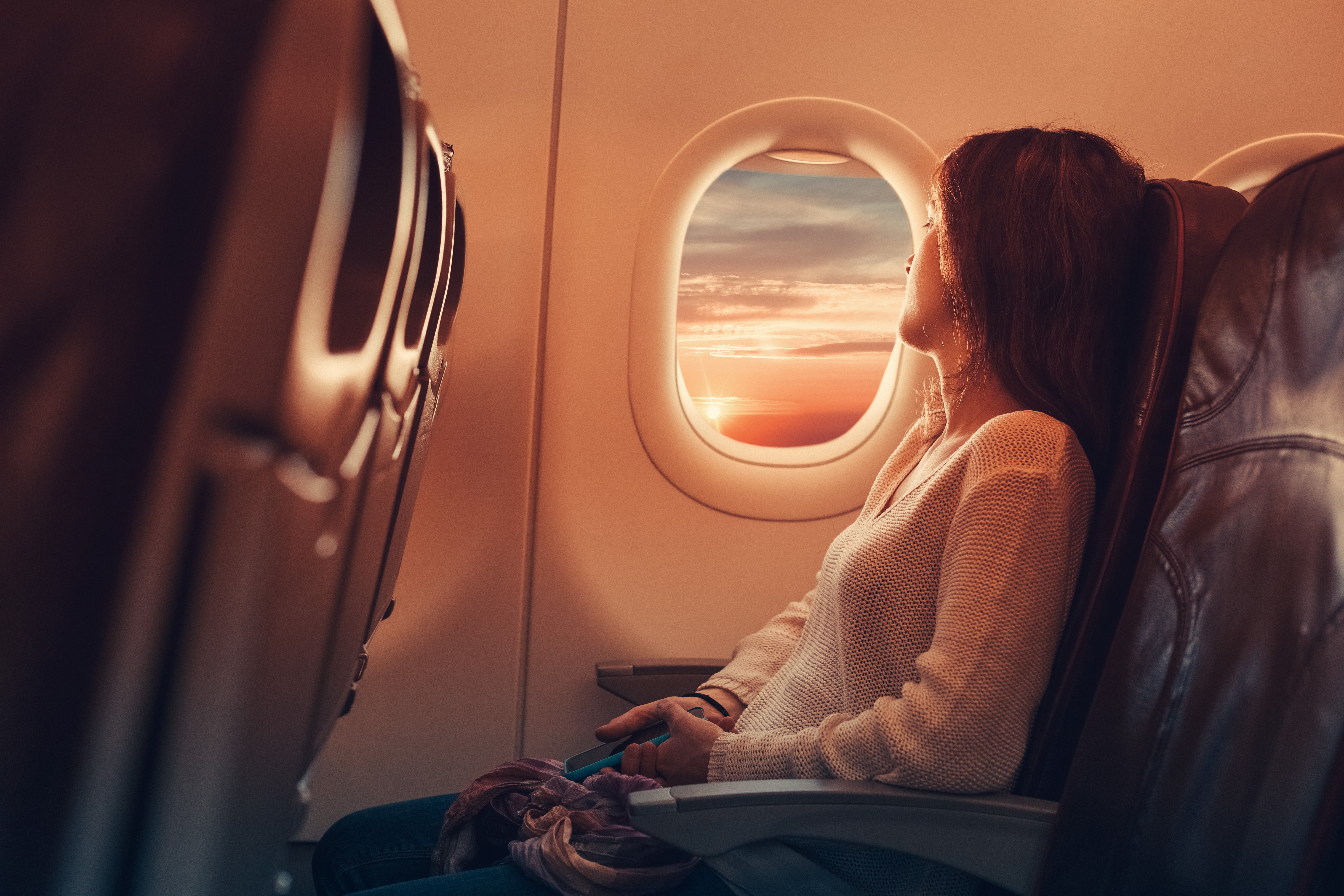 Hydrate
From lack of sleep, UV damage and pollution to temperature changes, cabin pressure and air conditioning, flying takes a toll on our skin.
Our skin works at its optimum when humidity levels are around that of the average outdoor climate - between 40% and 70%. However, humidity levels on a flight are at most 10%, leaving the barrier function of the skin weak and dry.
If you're travelling on a long-haul flight, the skin's barrier can become completely unbalanced, confusing your biological clock and causing disruption to the skin's regeneration process. Your skin also retains less water, becoming dehydrated and slower to recover from aggressors. This manifests in the appearance of fatigue, fine lines and dullness being more pronounced, making room for a loss of plumpness, redness and sensitivity.
To keep your skin hydrated before flying, the secret lies in making sure your skincare routine is able to respond to three key needs: hydration, comfort and resistance. Reinforce the skin before boarding with Vichy Minéral 89 (available in selected CarePlus Pharmacies) and protect the barrier to the elements.
This product contains a combination of 15 key minerals and hyaluronic acid — one gram of hyaluronic acid can hold up to 6 litres of water and can hold up to 1000 times its own weight in moisture — hydrating the skin for up to 24 hours after application and preventing pollution particles from sticking to the skin. It is light and non-sticky and leaves the skin's texture improved and feeling healthier, smoother and re-plumped.
Ask our friendly CarePlus Pharmacists for help choosing a sun cream and moisturiser that is right for you. La Roche Posay's Anthelios products are a great go-to for sensitive skin and high SPF protection.