Skin Month: How to build a skincare routine
Building a skincare routine
April at CarePlus is Skin Month, and to kick it off we are going back to basics – the three main steps in building your skin-care routine.
Think of your skincare routine as consisting of three main steps – Cleansing, Toning and Moisturising. Cleansing involves washing the face, toning is to balance the skin and the moisturising step hydrates and softens the skin.
The ultimate goal of any skincare routine is to get your complexion to a point where it is looking and functioning at its best, and to target any problem areas on the skin. In addition to that, it can be a calming and healing daily ritual.
Time and consistency are key
Two of the most important aspects of taking care of your skin are time and consistency. Dr. Rachel Nazarian, a Manhattan dermatologist at Schweiger Dermatology Group says that there is no such thing as an instant fix, you need time to reap the benefits.
As long as a product doesn't immediately irritate your skin, generally aim to stick to that routine for a 3 to 6 week period, once or twice daily to notice a difference. Your skin needs this amount of time to get used to products.
1. Cleanse
Although it seems like the most basic, washing your face is also the most essential step of any skincare routine. As our skin comes into contact with environmental pollutants, dirt, bacteria and other factors on a daily basis, it is important that these are removed. The advice is to wash your face twice a day – morning and night – to avoid these factors leading to clogged pores, dullness and problem skin.
Finding the right cleanser
The right formula cleanses your skin as you're washing your face, without stripping essential, healthy oils from the skin: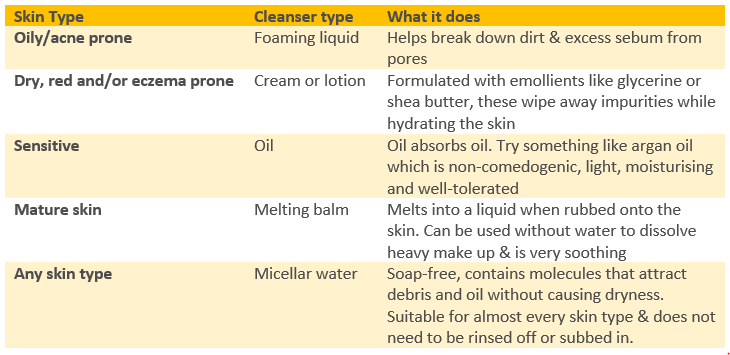 2. Tone
Toner should be applied after cleansing and before any other step. Think of a toner as a supplement to give your skin an extra boost of nutrients, helping the other products in your skin routine to absorb better.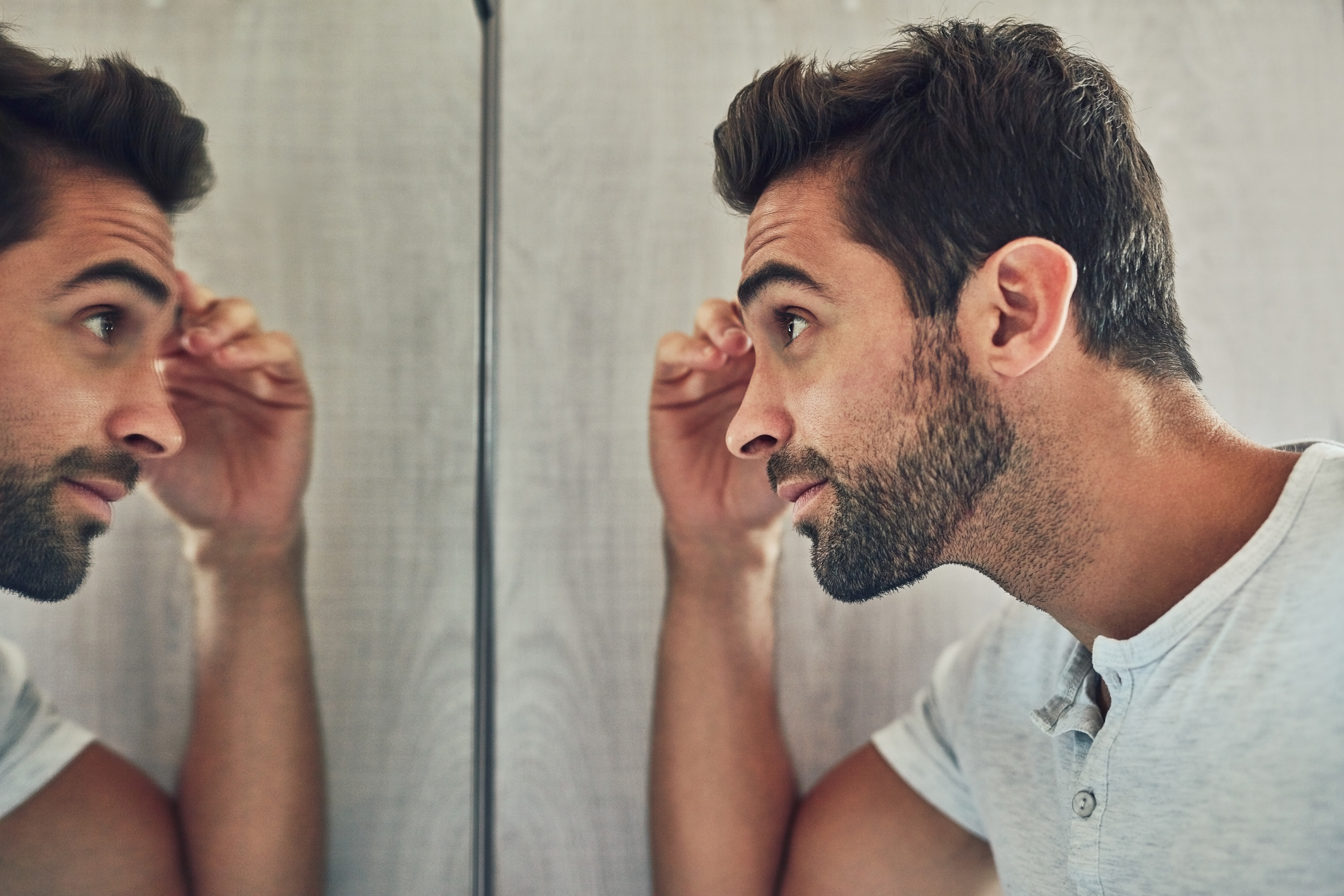 Generally, toner is usually applied using a cotton pad, however this leads to you losing a lot of the product as the pad soaks it up.
Tip: Applying toner using clean hands is the best way. Pour a few drops into the palm of your hand, rub your hands together and pat it on to your face.
Most toner formulas can be used morning and night, but any toners with exfoliating acids in the ingredients list should be used either once at night or every other day.
Some hero ingredients to look for in your toner of choice:

3. Moisturise
At the most basic level, the function of a moisturiser is to hydrate and soften the skin. They also work to prevent water loss through the outer layers of skin. Moisturiser is the one product that doctors and dermatologists recommend using all year round, and for all skin types.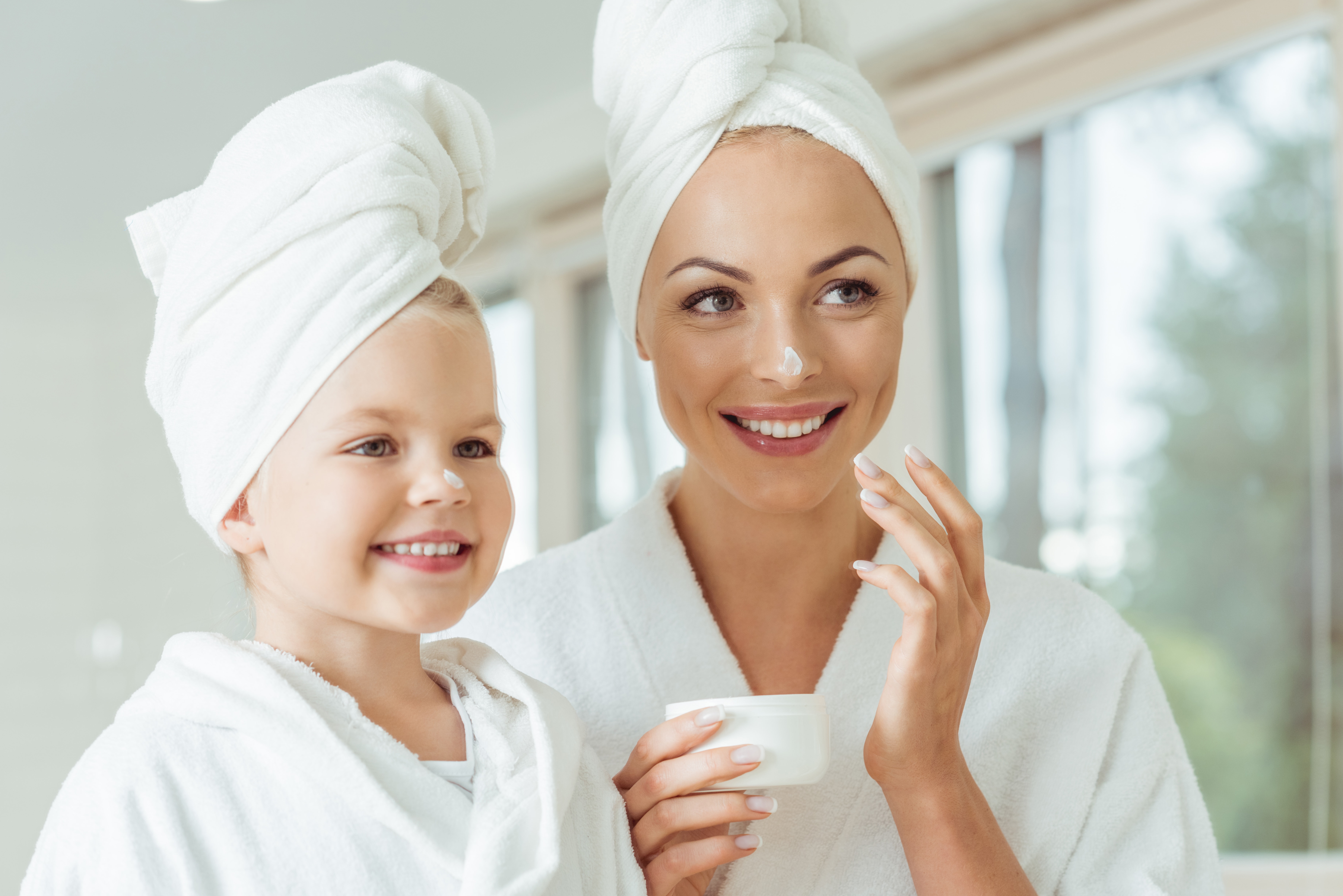 As we age, Dr. Nazarian informs, our skin naturally loses the ability to retain moisture, and daily activities such as washing can strip natural hydrators from the surface.
Choosing the right moisturiser:

Eye creams
It is important to note – you can absolutely survive without an eye cream – however, if you have specific concerns around your eyes such as hyperpigmentation, dryness or puffiness, it might be a good thing to try.
Dr Nazarian advises that the skin around the eye area is thin and delicate, thus it is more likely to react to irritating ingredients than other areas of the skin. Due to this, dermatologists tend to recommend an eye cream that takes this sensitivity into consideration and has more tolerable concentrations of active ingredients.
To target undereye bags and inflammation, ingredients like caffeine, peptides and hyaluronic acid can be very soothing.
For dark circles under the eyes (which can be due to visible veins or discolouration) look for brightening ingredients in an eye cream such as vitamin C, kojic acid and niacinamide.
Tip: Steer clear of strong retinol formulas and fragrance as these can sting and cause redness and irritation.
Good Skin Tips
Pain & tingling do not mean it's working. If a product makes your skin feel like it's burning or tingling, it is probably damaging your skin and you should not continue to use it.
Diet & water intake are everything. The foods you eat and the amount of water you drink will do more for your skin that piling a million products on to it. Specifically, if a certain type of food makes you break out – cleanser is not going to fix that, removing that food from your diet will. The age-old tale of water being the skin's saviour holds true – drink as much of it as possible.
Be gentle. Be careful not to pull, drag or scrub at your skin while doing your skincare routine – particularly around the eyes. Your skin is a delicate organ, so be as gentle as possible. Avoid using exfoliating scrubs too often (no more than once a week) and avoid ones with abrasive ingredients.
Don't go overboard. Your skincare routine is not necessarily better because it has 17 steps and 52 products. In reality, you only really need the key items we have mentioned and a good sunscreen, everything else is a bonus.
Order is important. With any skincare products, try to apply them in order of consistency – from thinnest to thickest. For example – cleanser, then toner, serum (if you use one) and finally moisturiser and SPF.
Pop into your local CarePlus Pharmacy and ask our Derma Advisers for advice on what products are suitable for you.