Bepanthen ointment: What is it and how does it work?
What is Bepanthen?
Bepanthen® is a clinically proven nappy rash ointment with a dual action. It works in two ways to care for baby's delicate skin and protect it from the causes of nappy rash. A thin layer of Bepanthen® nappy care ointment may be applied on baby's clean, dry bottom at every nappy change.
How does it work?


Bepanthen protects:

Clinically proven, Bepanthen works by forming a transparent, breathable layer helping to protect baby's skin from the irritants and rubbing that can cause nappy rash
Bepanthen cares:

Bepanthen contains Provitamin B5 which gently helps sensitive skin to repair its natural protective barrier while keeping it soft, smooth and moisturised


What is nappy rash?
Almost every baby will get nappy rash at least once during the first 3 years of life.
Nappy rash is an irritant dermatitis caused by the environment in the nappy. Typically, nappy rash tends to be limited to the nappy area and skin creases aren't usually affected.
Despite the advances in nappy care, nappy rash is still a common skin condition in babies and can be distressing for both baby and mother.
Causes of nappy rash


Prolonged contact of the skin with urine or faeces
Sensitive skin
Rubbing or chafing of the nappy
Soap, detergent or bubble bath
Baby wipes
Diarrhoea or other illness
Antibiotics
Change of diet


How is Bepanthen® formulated?
Bepanthen® nappy care ointment is a water-in-oil formulation containing 5% Dexpanthenol (Provitamin B5). The gentle formula contains a minimum of ingredients and is free from colours, perfumes, preservatives and antiseptics.
As a result, it can be used at every nappy change to help protect the most sensitive of skin, including that of premature babies.
Leading paediatricians and dermatologists recommend using a gentle barrier ointment to protect against the causes of nappy rash. Bepanthen® nappy care ointment is the only leading product meeting all the seven gold standards of an ideal nappy care protect.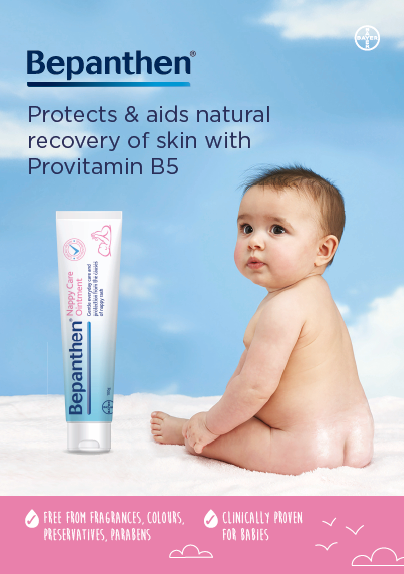 Extra care to protect the baby's bottom should be taken when:


They are premature
They are teething
They are unwell or recovering from a vaccination taking antibiotics
Their skin is sensitive or there's eczema in the family
They have a tummy upset
Their diet has changed, e.g. weaning


Skincare advice to prevent nappy rash
There are a few simple steps parents can take to help to protect against the causes of nappy rash:
Change the nappy often to stop stale urine or faeces being in contact with the delicate skin
Clean the area thoroughly and allow to dry completely at each nappy change
Use a protective ointment such as Bepanthen® at every nappy change and especially at bedtime
Allow skin to breathe – let baby kick their legs without a nappy as often as possible
Loosen the nappy so that air can circulate
Give the baby nappy-free time before going to bed
Pop into your local CarePlus Pharmacy to pick up some Bepanthen® ointment and chat with our friendly baby advisers in store.