World Autism Awareness Day: Autism during COVID-19
This World Autism Awareness Day, April 2nd, it is more important that ever to support in any way you can, given the current crisis we are experiencing. COVID-19 is making life difficult for everyone. But for autistic people who already feel socially distanced, isolated and anxious, these uncertain times can be even harder.
The COVID-19 crisis + autism
Autistic people face barriers in day to day life, from education to the workplace. However, they are particularly vulnerable during this COVID-19 crisis, which AsIAm (Ireland's National Autism Charity & Advocacy Organsiation) can confirm due to the sheer amount of appeals for help they as a charity have been receiving.
Why?
The autism community require routine, structure and predictability – none of which are easily available at a time like this. People with autism also tend to suffer from anxiety easily, which – during a time like this – has become extreme for a lot of people.
The statistics
AsIAm conducted a survey to find out more about the experiences, worries and support needs among the autism community at this time. Some of the results were as follows:
70% of family members reported the COVID-19 crisis as being very hard to manage
72% of autistic people do not have an alternative support person or organisation if their key support person became sick or unavailable during this time
74% of families do not have access to support at this time
78% of family members did not think their autistic family member would cope with the requirement to self-isolate
55% of autistic people described coping with social distancing restrictions as hard or very hard
67% of autistic people were finding it hard to cope with the uncertainty of what was happening
Read the full list of results from the survey on the AsIAm website here.
Key concerns among families and autistic people included:
Dealing with a lack of structure
Increase in distress and meltdowns
Ability to abide by the social distancing restrictions
What would happen if an autistic person or loved one became sick
These factors put autistic people at risk of losing key skills, experiencing adverse mental health and in some cases lead to dangerous situations in family homes.
AsIAm's response to the current crisis
AsIAm has committed to a series of further actions to support the autism community at this time. These include:
A further series of support webinars covering issues such as self-regulation, managing sensory processing at home and emotional regulation
Developing a bank of resources to help autistic people when it comes to maintaining structure, dealing with the unknown and understanding the crisis as it develops
A dedicated staff member has been assigned to deal with queries from the community arising from COVID-19
Continuing to issue Autism ID Cards to community members who may find the card to be a useful tool to self-advocate at this time
Liaising with the HSE and An Garda Siochana on the impact of social distancing restrictions and the broader COVID-19 crisis on the autism community and advocating for autism-specific supports where appropriate
Working with their business partners to meet the needs of autistic people in accessing essential services
AsIAm have been working to support autistic people and family members by offering a number of online supports, including:
A special webinar on the topic of dealing with change
The creation of a series of social stories to explain different aspects of the COVID-19 response such as testing, self-isolation and the new government measures restricting movement
How can you help?
April is World Autism Month, which is traditionally a strong fundraising period for AsIAm. However, because of COVID-19, the charity have been forced to cancel events that they relied on to fund vital work supporting autistic people and creating a more inclusive Ireland.
With the whole country stuck at home for the next few weeks, the #FlyForAutism challenge is a fun way to show your support – without having to leave your home.
Want to get involved? All you need is a sheet of paper and some imagination. Here's what to do:
1. Text ASIAM to 50300 to donate €4 to AsIAm
2. Build your own paper plane. It can be as fancy or as simple as you like.
3. Post a video of your paper plane's most impressive flight on your social media channels with the hashtag #FlyForAutism
4. Challenge 3 friends to donate and try to beat your plane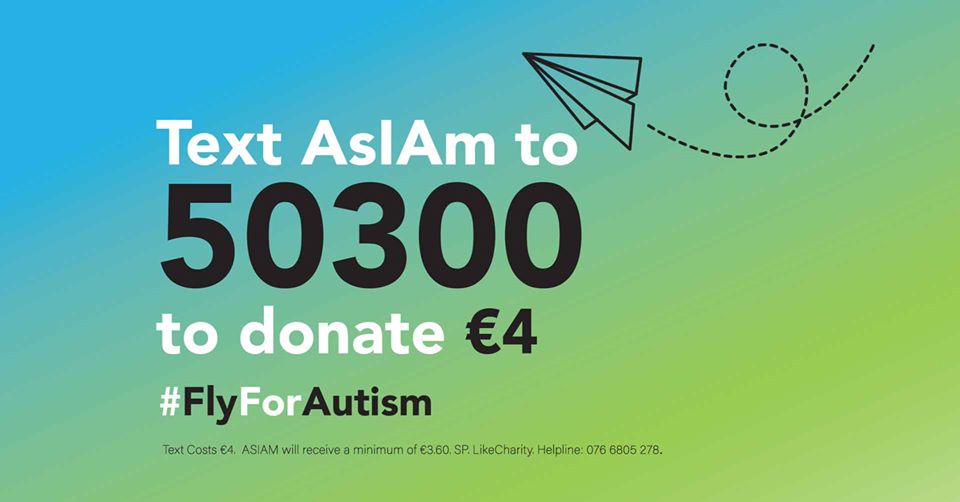 Check out the AsIAm website for more.