COVID-19: How to Self-Isolate
Information from the HSE
To help stop the spread of coronavirus (COVID-19) you may be asked to either:
How to self-isolate if you are asked to:
Self-isolation means staying indoors and completely avoiding contact with other people. You may need to do this if you have symptoms of coronavirus. You need to do this for as long as you have symptoms. This is to stop other people from getting it.
A public health doctor may ask you to self-isolate. They will do this if they think you may have coronavirus. This could be before you get tested for coronavirus or while you wait for test results.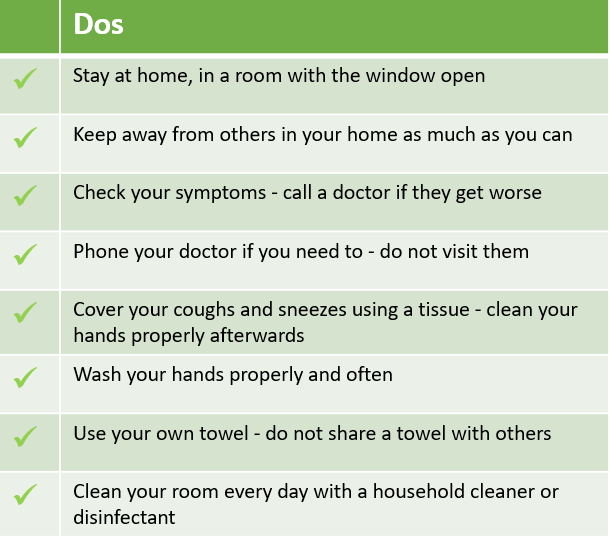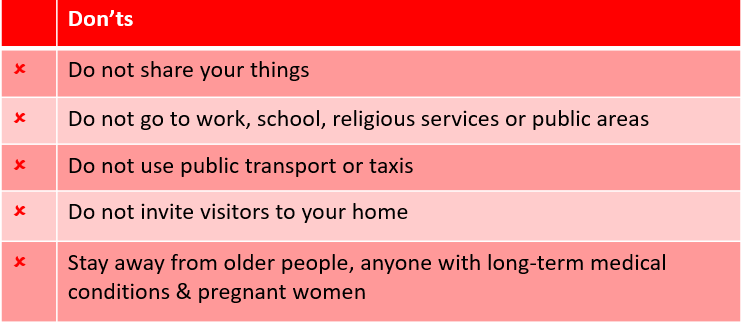 It's OK for friends, family or delivery drivers to drop off food or supplies. Tell them to leave these items outside your door.
If you feel someone must visit you, discuss it with your public health doctor first.
If you live with other people:

1. Wear a face mask
If you must go into a room with other people while you are self-isolating, wash your hands first and wear a face mask.
Anyone in a room with you should also wear a face mask. Do not touch the front of the mask when you are taking it off. Clean your hands with gel or wash with soap and water after you take it off.
You do not need to wear a face mask when there is no one else in the room with you.
2. Wash your hands often
Wash your hands properly and often with soap and water or clean them with an alcohol-based hand rub.
Cover your mouth and nose with a tissue or your sleeve when you cough and sneeze. Put used tissues into a bin and wash your hands.
3. Use a disinfectant to clean your home
Many cleaning and disinfectant products sold in supermarkets can kill coronavirus on surfaces.
First, clean the surface as usual, then use a disinfectant.
This includes:
counters
table-tops
doorknobs
bathroom fixtures
toilets and toilet handles
phones
keyboards
tablets
bedside tables
Wear disposable gloves and a plastic apron. These will be posted to you by the Department of Public Health. Clean your hands after you take off the gloves and apron. Throw the gloves and cloths in a bin after you use them.
4. Laundry
Wait until you get your test results before washing your laundry.
Place laundry in a plastic bag and wash it if the tests for coronavirus are negative. If the test is positive, you will be told what to do with your laundry by a public health doctor.
You may need to wash laundry before you get your test results. If you do, wash it at the highest temperature using laundry detergent. This should be above 60 degrees Celsius. Wear disposable gloves and a plastic apron.
If possible, tumble dry and iron using a hot setting or steam iron.
Clean all surfaces and the area around the washing machine.
Wash your hands thoroughly with soap and water after handling dirty laundry.
Do not take laundry to a launderette.
5. Managing rubbish
Put all the waste that you have used including tissues and masks in a plastic rubbish bag. Tie the bag when it is about three-quarters full. Place the plastic bag in a second bin bag and tie the bag.
Treat all cleaning waste in the same way.
Do not put the rubbish bags out for collection until the test result comes back.
6. Stay in touch with your GP or doctor
If your symptoms develop or get worse in isolation, phone your GP or emergency department.
Caring for a child or someone else in self-isolation:
You may be caring for a child, family member or someone who needs support while they are in self-isolation. If you are, follow the above advice given.
Additionally, you should:
stay away from them as much as possible and avoid touching - use your phone to talk to them
wash your hands properly every time you have contact with the person
wear a face mask and have them wear a mask when you have to be in the same room
put them in a well-ventilated room alone
limit their movement in the house
get them to use a different toilet if possible
limit their number of caregivers
keep them away from older people, people with long-term medical conditions and pregnant women
If you are finding self-isolation hard:
Self-isolation can be boring or frustrating. It may affect your mood and feelings. You may feel low, worried or have problems sleeping.
You may find it helps to stay in touch with friends or relatives by phone or on social media.
How to limit social interaction if you are asked to:
Limited social interaction is avoiding contact with other people and social situations as much as possible. You may need to do this if you are a close contact of a confirmed case of coronavirus. This is to stop other people from getting it, if you develop symptoms.
Examples of close contact may be considered as:
spending more than 15 minutes face-to-face contact within 2 metres of an infected person
living in the same house or shared accommodation as an infected person
If you are told to limit social interaction, you can still go outside for walks, runs or cycles on your own. But you should not spend time in close contact with other people.
Other members of the household do not need to restrict their activities, unless they are also close contacts of a case.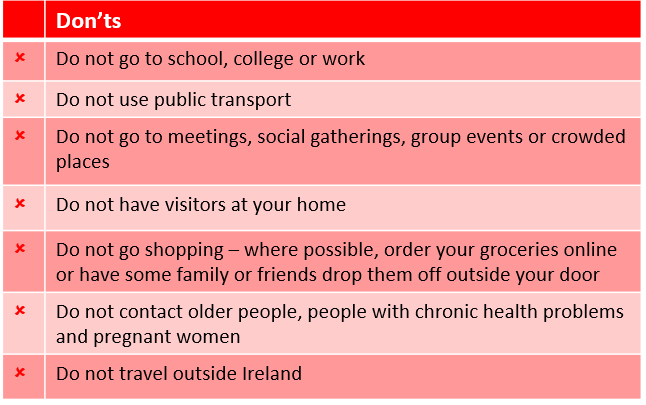 If you must travel within Ireland, discuss this with the staff from the Department of Public Health. Do this 2 days before you travel to let them know your travel plans and contact details. You need to remain contactable by phone at all times.