Low Iron Levels? Replenish Them Here
Having low iron levels can be difficult when it comes to functioning at your best in your daily life.
This
useful
checklist can help you identify
whether you may be low in iron and need an extra boost:
Are you a woman between 15-45 years?

Are you pregnant or breastfeeding?

Do you often feel tired and run down?

Do you have pale skin under

your

eyes or nails?

Do you have brittle hair and nails?

Do you have cracked skin around

your

mouth?

Do you drink a lot of tea and coffee?

Are you vegetarian/vegan?

Do you often have cold hands and feet?
The more 'yes' answers you gave to the above questions, the more likely it is that your iron levels are low and they may need replenishing.
Luckily, we have just the thing. Pop into your local CarePlus Pharmacy and ask our friendly pharmacists about Floradix.
What is in Floradix/Floravital?
Iron
Iron contributes to the normal function of the immune system and plays a role in the normal formation of red blood cells and haemoglobin. It also helps to transport oxygen around the body and contributes to the reduction of tiredness and fatigue.
The body does not produce iron and so it must come entirely from iron-rich foods in our diet; red meat, dark leafy greens, dried fruit, iron-enriched cereals, grains, beans and lentils.
However, not all iron that enters the body is absorbed and poor diets can often lead to a shortfall. Iron absorption can be hindered by too much processed bran, milk, black tea, coffee and vitamin E. Iron absorption rates can be improved by the consumption of vitamin C.
Herbal Extracts
Carefully selected herbal extracts from nettle, fennel, couch grass root and other plants help maintain healthy digestion which is vital for the absorption of iron. Together with the fruit juice concentrates these herbs counteract digestive problems often associated with other iron supplements.
Vitamin B1 (Thiamine)
Thiamine contributes to normal energy-yielding metabolism and the normal functioning of the nervous system.
Vitamin B2 (Riboflavin)
Riboflavin contributes to the maintenance of normal skin and vision.
Vitamin B6
Vitamin B6 contributes to the normal energy-yielding metabolism and the reduction of tiredness and fatigue.
Vitamin B12
Vitamin B12 contributes to normal red blood cell formation and normal psychological function.
Vitamin C
Vitamin C assists with the absorption of iron and normal function of the immune system.
Why Floradix?
Floradix comes in both liquid and tablet form and is also available in a yeast and gluten-free version called Floravital – a formulation suitable for everyone.
Unlike a lot of vitamin and iron supplements, Floradix is easy to digest, easy for your stomach to tolerate and is highly effective in increasing your overall energy levels and well-being.
Natural herb extracts in the formula work to improve how well your stomach and digestive system tolerate the iron content. As Floradix contains bivalent iron in its dissolved form as well as Vitamin C, it results in optimal iron absorption. It also contains B vitamins 2, 6 and 12 and has a pleasant taste so it is easily incorporated into your diet and doesn't feel like a chore to take.
Contains iron gluconate which is absorbed well by the body

Vitamin C and fruit concentrates assist with the absorption of iron

Free from chemical preservatives, colourings and flavourings

Free from alcohol, animal derivatives, lactose and dairy products

Floradix

is suitable for vegetarians

and

vegans
Who should take it?
Women and Girls
Women and girls have great demands made on their bodies and their iron levels through menstruation and hormonal changes.
Expectant and recent mothers



During pregnancy and breastfeeding, a woman's demand for iron becomes even greater than normal as it is essential for the healthy growth and development of the baby.
People on strict diets,

vegetarians

& vegans
Restricted diets may mean the diet is lacking in sufficient quantities of the right foods to maintain iron and vitamin levels – so Floradix or Floravital can be useful in making up the shortfall.*
Children and adolescents



The physical growth of children can rapidly consume the body's iron, added to the fact that children's diets are often not as balanced as they should be – an iron supplement can be a safeguard for good health.
Dosage
During pregnancy it may be necessary to increase the daily dose recommended on the Floradix information leaflet – however, this should be discussed with your GP or midwife and only done under medical supervision.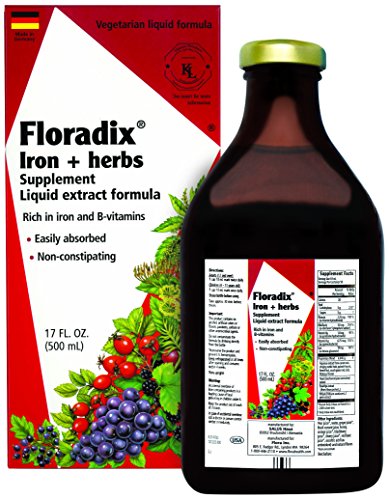 *Food supplements should not be taken as an alternative to a healthy diet.
This post is sponsored by Floradix