European Cervical Cancer Prevention Week 2019
In Ireland about 300 women are diagnosed with cervical cancer each year. It is the second most common female cancer in Europe.
What is cervical cancer?
Cervical Cancer is cancer of the cells lining your cervix. Cervical cancer develops slowly over a number of years. At first it develops abnormal changes, which are called precancerous, and then leads to cancer itself. These abnormal cells are called CIN (cervical intraepithelial neoplasia). These cells are not cancerous but if left untreated may develop into cancer.
Cervical Cancer Prevention Week
During Cervical Cancer Prevention Week (Monday 21st – Sunday 27th January) we want as many of you as possible to know how you can reduce your risk of the disease and to educate others on the topic.
How can you reduce your risk of cervical cancer?
Attending your cervical screening when invited
Knowing the symptoms of cervical cancer and seeking immediate medical advice if you think you are experiencing any
Getting the HPV vaccination if aged 11-18
Knowing where you can find support and further information should you need it
What are the symptoms of cervical cancer?
Abnormal bleeding during or after sexual intercourse or between periods
Post-menopausal bleeding if you are not on Hormone Replacement Therapy or have stopped it for a period of 6 weeks or more
Unusual vaginal discharge
Discomfort or pain during sexual intercourse
Lower back pain
What to do if you are experiencing symptoms?
If you think you are experiencing any or all of the above symptoms or are concerned about any new symptom you are experiencing, it is vital to make an appointment to see your GP as soon as possible. Even if you have recently had your smear test (cervical screening) and it came back normal, it is still important to report any new symptoms to your doctor. These symptoms could also be related to many other conditions.
There are usually no symptoms associated with abnormal cervical cells and not all women diagnosed with cervical cancer experience symptoms which is why it is vital to attend regular cervical screenings when you are invited.
As cervical cancer develops it can cause further symptoms which may include:
Increased frequency of urination
Blood in urine
Bleeding from the bottom
Diarrhoea
Incontinence
Lower limb swelling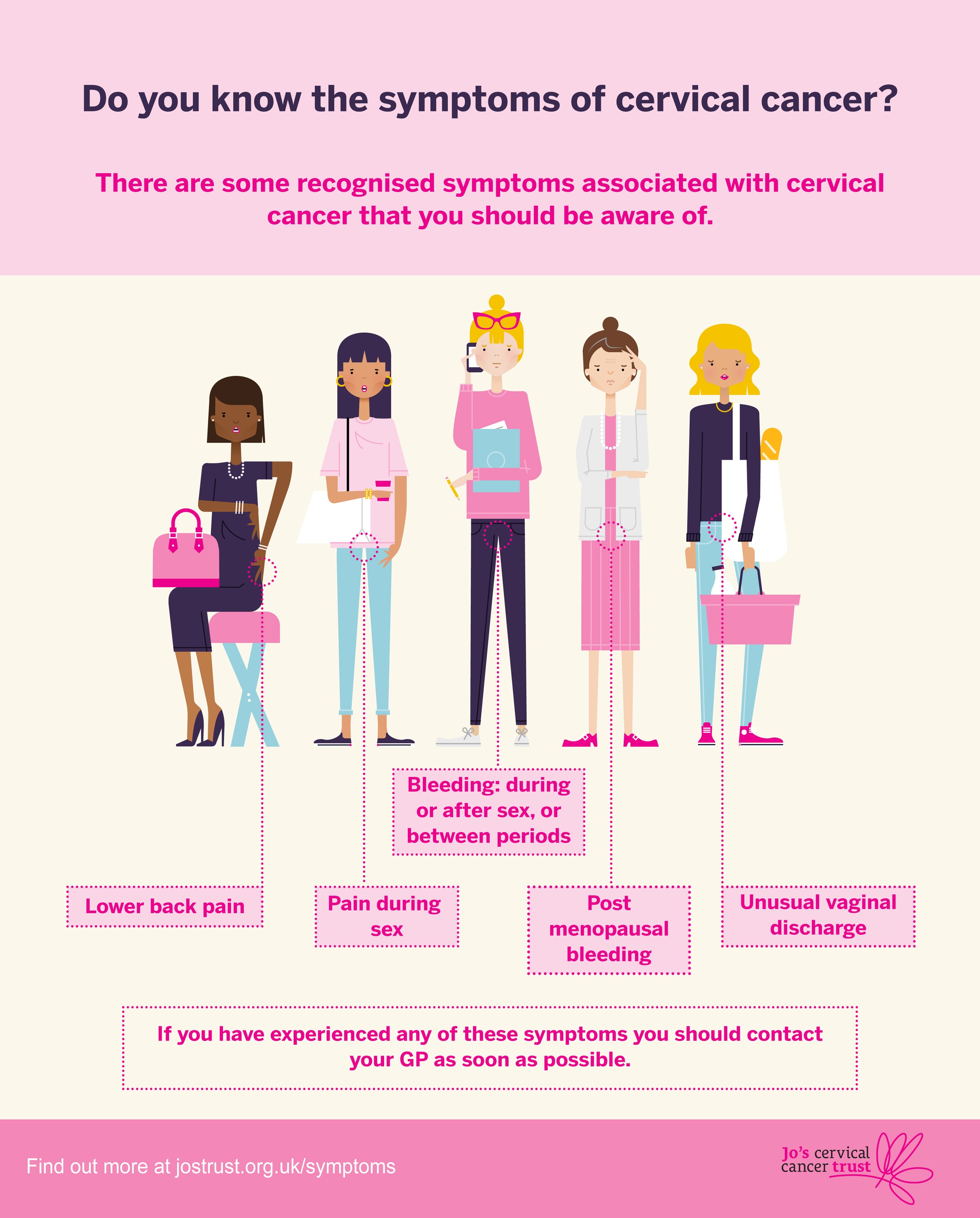 Where to find support?
There are many cancer support centres and voluntary groups around the country. If you feel they could help you and your family, call our Cancer Nurseline on 1800 200 700. Our cancer nurses can give you more information on counselling or support groups in your area. We can also help you cope with the emotional effects of a cancer diagnosis.
What are the benefits of cervical screening?
Regular cervical screening:
saves lives
can detect abnormal changes in the cells of the cervix when they are easier to treat
helps detect abnormal changes before symptoms develop
Since CervicalCheck started in 2008:
more than 3 million screening tests have been carried out
the number of women who develop cervical cancer has fallen
over 100,000 cases of abnormal cervical cells have been detected, many of which could have developed into cancer if not detected through screening and treated where necessary
Who should have cervical screening?
CervicalCheck – the HSE National Cervical Screening Programme offers free cervical screening to women aged between 25 and 60.
If you have ever been sexually active, you should have regular cervical screening tests. This includes women in same-sex relationships.
If you have had a hysterectomy or you are not sure if you need cervical screening tests, contact your GP (doctor) to find out.
How do I arrange a cervical screening test?
Make an appointment directly with any doctor or nurse registered with CervicalCheck.
You can find out when your next cervical screening test is due and see a list of registered doctors and nurses on hse.ie/cervicalcheck or by calling Freephone 1800 45 45 55 or emailing info@cervicalcheck.ie
How often should I have cervical screening?
Depending on your age, you should have a test:
every 3 years if you are aged 25 to 44 years
every 5 years if you are aged 45 to 60 years
Most cervical cancers are caused by the HPV virus
HPV is a very common virus that is passed on during sex. Most women will get this infection in their lifetime and it usually clears up by itself. If you smoke, it can prevent the infection from clearing up.
Ongoing HPV infections can cause abnormal changes in the lining of your cervix. These changes, if left untreated, can lead to cervical cancer.
Not having regular smear tests can also increase your risk of getting cervical cancer.
The HPV vaccine will make antibodies that will protect you against many HPV types. The vaccine is licensed for girls and women aged 9–26, but it is proven to work best for girls and women who have not been exposed to the virus.
For more information, please check out the HSE website and the Irish Cancer Society.
Information adapted from the HSE website, Irish Cancer Society & Jo's Cervical Cancer Trust.