Back
Pneumonia Vaccination Service
Get your pneumococcal vaccine directly from your local CarePlus Pharmacy*. Pneumococcal infections are bacterial infections caused by streptococcus pneumoniae and can lead to severe lung, brain and blood infections such as pneumonia, meningitis and septicaemia. It can affect people of all ages, but children under 2 years of age, the over 65s and those living with a chronic health condition are particularly vulnerable. The pneumonia (pneumococcal) vaccine is a safe and effective way to protect you against severe and potentially fatal infections.
The Pneumonia Vaccine
There are two types of pneumonia vaccine. Which one you are given depends on your age and health.
Pneumococcal conjugate vaccine (PCV)is used to vaccinate children under two years as part of the national childhood immunisation schedule
Pneumococcal polysaccharide vaccine (PPV)is given to people aged 65 and over. It is also given to people over the age of two years who are considered high-risk due to chronic health conditions. It is thought not to work in children under the age of two.
Both vaccines encourage your body to produce antibodies against pneumococcal bacteria. Antibodies are proteins produced by your body to destroy disease and infection. They protect you from becoming ill if you are infected with pneumococcal bacteria.
Pneumovax® is the type administered by your pharmacist and they can advise you if the vaccine is appropriate for you or they might refer you to your GP if necessary.
How can I get the Shingles Vaccine?
The Pneumonia Vaccination Service is available privately at selected CarePlus Pharmacies. The service is offered by specially trained CarePlus Pharmacist vaccinators. To avail of the vaccination service, you call your CarePlus Pharmacy or simply book an appointment online where available for the Pneumovax® vaccine, for a time that is convenient for you.
There is no such thing as pneumonia season, like you would have a Flu season. If you and/or your health professional decide that you need to have a pneumococcal vaccine, you can receive it at any time of the year. If it is flu season, you can even get a pneumococcal vaccine while you get your flu vaccine if you receive each shot in a different arm.
Who should get the vaccine?
A pneumococcal infection can affect anyone, especially over 65s and for anyone 18 years and over living with a chronic health condition are particularly vulnerable to the infection.
The HSE recommend adults over 65 years of age avail of the pneumococcal polysaccharide vaccine (PPV). This is a once-off vaccination, which will protect you from the infection for life. If you were vaccinated against pneumococcal disease when under the age of 65 years, it is recommended that you vaccinate again when you are over 65 years old, for full protection against the disease.
People living with chronic health conditions
The HSE suggest that adults 18 years and over should avail of the pneumonia vaccine if they have any of the following:
Asplenia or splenic dysfunction (including surgical splenectomy, sickle cell disease and coeliac disease)

Candidates for, or recipients of, a cochlear implant

Children under five years of age with a history of an invasive pneumococcal disease, irrespective of vaccine history.

Chronic renal disease or nephrotic syndrome

Chronic heart, lung, or liver disease

Complement deficiency (particularly early component deficiencies C1, C2, C3, C4)

CSF leaks either congenital or complicating skull fracture or neurosurgery

Diabetes mellitus

Immunosuppressive conditions (e.g., some B- and T-cell disorders, HIV infection, leukaemia, lymphoma, Hodgkin's disease) and those receiving immunosuppressive therapies.

Intracranial shunt

Post haematopoietic stem cell transplant

Organ transplant
The HSE do not recommend the pneumonia vaccine for the following:
Young healthy adults, as there is little risk of pneumococcal infection.

People with a history of anaphylaxis to any of the ingredients in the vaccine.

People who have a high fever (Please defer until after recovery).

Pregnant women – although it is thought to be safe to have the pneumonia vaccine during pregnancy and while breastfeeding, many women like to wait until after they have had their baby. The vaccine can be given if there is an urgent need for protection.

The PPV vaccine is not recommended routinely for patients, not in high-risk groups.
If you are in any doubt, talk to your CarePlus Pharmacist, who can give you more information about the vaccination and advise whether it is suitable for you.
The PPV vaccine and its administration is subject to charge. Please contact your local CarePlus Pharmacy for pricing.
How to Book an Appointment:
You can book an appointment or register on the waitlist for vaccines online for selected CarePlus Pharmacies* by clicking on the "Book Now" button, or alternatively you book an appointment in store or by calling the pharmacy.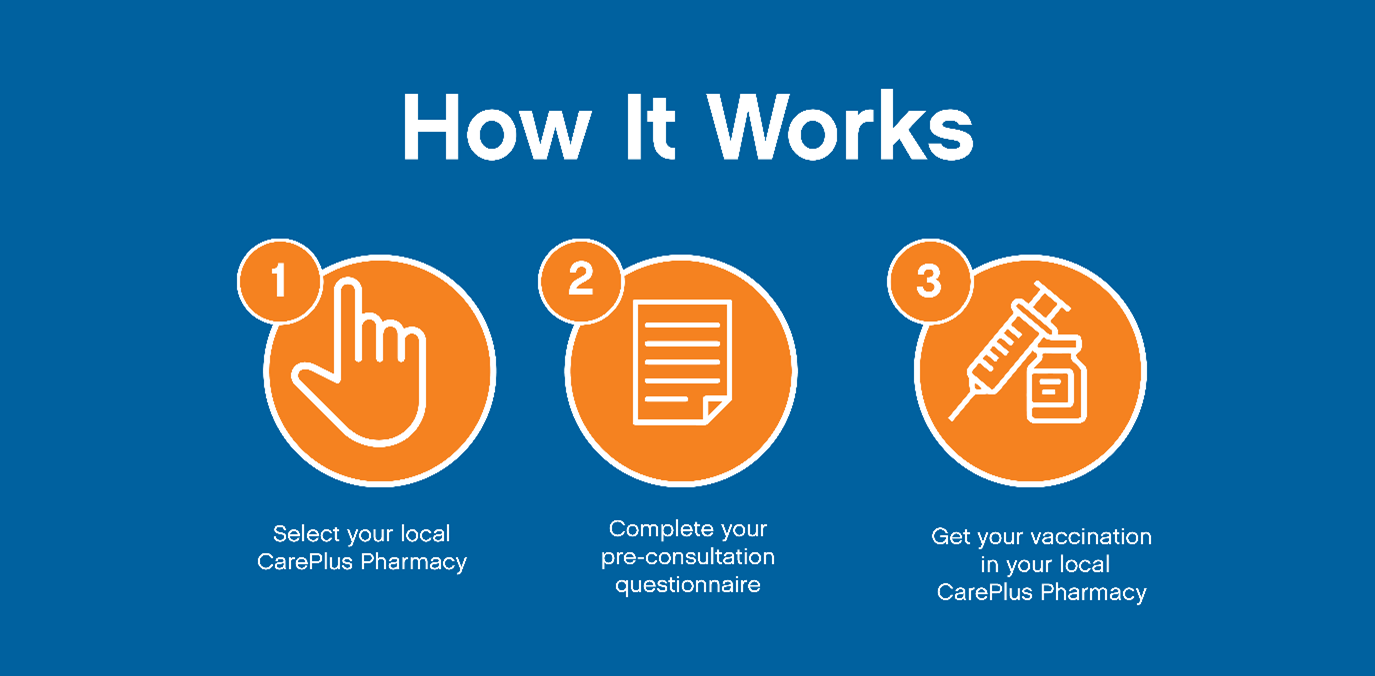 *Appointment availability subject to stock and pharmacist vaccinator availability and eligibility criteria. Selected CarePlus Pharmacies only.
More Information
This vaccine protects against 23 types of pneumococcal disease including those most likely to cause severe disease and most people only need to receive the vaccine once
Most adults will be protected by the vaccine after 3 weeks

If you are aged under 65 years a booster vaccination (usually given 5 years after the first) may be recommended if you have a condition where your antibody levels are likely to decline rapidly e.g. no spleen, or a condition that weakens your immune system

You cannot get pneumococcal disease from the vaccine, as it does not contain live bacteria
For more information see below about shingles, visit our FAQ page, or visit https://www.immunisation.ie or talk to your pharmacist.