Antigen Testing with EU Digital COVID Certificate
Antigen tests are an extra measure to help protect yourself and others from COVID-19.
To register for an Antigen test appointment in your preferred CarePlus Pharmacy* (includes a certified EU Digital COVID Certificate (DCC) valid for travel outside of Ireland if negative), please click the Book Now button in the bottom right hand corner.
*Selected CarePlus Pharmacies only, subject to availability and charges
About Rapid Antigen Tests
Rapid Antigen Tests are an established technology that detects certain proteins in your body that are part of the Coronavirus (COVID-19).
Antigen testing is becoming increasingly important for travel, events and reopening of businesses. A positive detection can be quite accurate; however, the test is potentially not as sensitive as a PCR test. A positive antigen test may need to be confirmed with a subsequent PCR test. We recommend that you follow the current HSE guidelines.
Antigen Test Service
Our trained CarePlus Pharmacists or Pharmacy team member will normally collect a sample using a nasal swab to test for a current COVID-19 (Coronavirus) infection. Many rapid antigen tests can provide a diagnostic result within 15 minutes.
If the result of the test is negative, you will be emailed an EU Digital COVID Certificate within one hour, which you can upload to your phone (COVID Tracker App or similar) and can be used for travel within the EU.
A negative result means that an active coronavirus infection was not detected at the time of the test. However, this does not guarantee that you do not have the COVID-19 virus.
Who is the test suitable for:
The test is being offered primarily for the purpose of travel to EU countries.
However, it is not suitable for anyone:
with symptoms of COVID-19

who thinks they may have COVID-19

who may be a close contact of someone with COVID-19

who recently arrived in Ireland from somewhere where the advice is to self-isolate
What I need to bring with me to the test:
You will need to bring photo ID e.g., passport, driver's licence, or public services card to confirm identity & a copy of your photo ID will be retained in the pharmacy.
EU Digital COVID Certificate
If you get a negative test, you will receive an email with your EU Digital COVID Certificate.
Please ensure you are familiar with the current requirements of the country you are entering. Some countries accept the antigen test if taken less than 48 before arrival, others do not. Not all countries will accept an antigen test, some countries will only accept a PCR test.
It is your responsibility to book the test you require for your circumstances. Please be aware that the age requirement for testing of children also varies by country.
Although the test has high sensitivity and specificity, it is not 100% accurate and may give false-positive or false-negative results.
If you test negative, the result of your test will be submitted to the OGCIO for the purposes of producing an EU certificate. A negative result means that the COVID-19 virus was not identified at the time of testing. It does not indicate that you haven't had COVID-19 or that you won't develop the coronavirus in the future.
If you test positive, this means that the COVID-19 virus was identified at the time of testing. A positive antigen test may need to be confirmed with a subsequent PCR test. We would recommend that you follow the current HSE guidelines.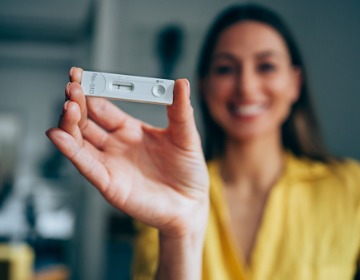 Frequently Asked Questions
Antigen Test VS. PCR Test?
Antigen tests are not as accurate as PCR tests. Rapid Antigen Tests are designed to detect the virus at levels that are more likely to mean you're infectious and could spread the virus to others. Antigen tests are well suited to those who are travelling, if an antigen test is all that is required.
How much does the test cost?
The cost of this test is listed when booking an appointment online. You can alternatively contact the CarePlus Pharmacy of your choice directly to enquire about the price.
How do I book my test?
Click on the blue Book Now button below to register for an appointment

Fill in the registration details and select your chosen store

Payment will be taken at the time of booking or later at the pharmacy
What are the differences between a PCR, LAMP test and Antigen tests?
A PCR test is the gold standard in COVID-19 testing and is the test used by the HSE. It offers the most accurate results as it can detect even the smallest amount of the virus. This means that a negative PCR test result provides the most reliable indication that you can safely continue to work and travel.
A LAMP test is also analysed in a laboratory, but the test is less accurate and sensitive. Therefore, it may give a negative result to people who have a small amount of the virus present. A negative LAMP test provides you with some accuracy, but not as much as a PCR test.
An antigen test is an established technology, adapted to detect antigens that are present when a person has COVID-19. The best-known example of a Antigen test is the home pregnancy test kit. The test kit is a hand-held device with an absorbent pad at one end and a reading window at the other. Inside the device is a strip of test paper that changes colour in the presence of COVID-19 antigens. A negative result means that active coronavirus virus was not detected, at the time of the test. However, this does not guarantee that you do not have coronavirus. It is not analysed in a laboratory, unlike the PCR or LAMP tests.
Can I add change my booking date and time after I have booked?
Yes, you can change the date and time of your booking. Click on the link in your booking confirmation email or alternatively contact your local CarePlus Pharmacy where you booked your appointment directly.
Can I cancel my booking?
You can cancel your booking up to 24 hours before your appointment. In this event, if payment was taken at time of booking, for refunds contact your chosen CarePlus Pharmacy directly. If cancelled within 24 hours of the appointment, bookings may be non-refundable, subject to the terms and conditions of your local CarePlus Pharmacy.
What are the different entry requirements for each country?
Requirements for entry to countries during the COVID-19 pandemic may differ and it is your responsibility to ensure that you have all the necessary documentation and information before you travel.
Up-to-date guidance can be found for each destination, including entry requirements, by visiting the Department of Foreign Affairs website at: https://dfa.ie/travel/travel-advice/
Please note, CarePlus Pharmacy cannot provide travel advice or guidance on test specification, restriction, or isolation requirements for different countries. Please consult with your travel carrier and Government websites for guidance and up-to-date advice.